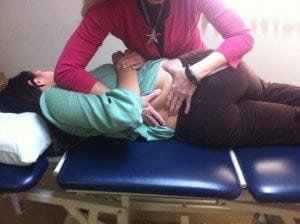 Manual Therapy is a specialty within the field of physical therapy. It encompasses a broad group of sophisticated hands-on techniques performed by uniquely trained doctors of physical therapy. These may include mobilizations or manipulations of soft tissue, nerves and skeletal joints. They aim to decrease pain and increase function. Joint mobilization/manipulation involves moving joints in specific directions and speeds to regain movements of the affected area of the body.  Selected neural tension mobilization, soft tissue, Myofascial Release or dry needling may also be used to improve the mobility and function of tissues and muscles.  These treatments can make active exercise, stretching and core strengthening much more comfortable and effective.
It is important to recognize that there are different levels of training in manual therapy. FAAOMPT is recognized as the highest level of manual therapy achievement:  Fellow of the American Academy of Orthopaedic Manual Physical Therapy.  Less than 10% of all physical therapists pursue Fellowship training.  It is an intensive 2-3 year program.  At Manual Therapy Associates we are very passionate about our field of work and continue to pursue advanced training and education on a regular basis.
Often our patients have seen other therapists and providers previously, with limited success.  You will be amazed at the progress that can be made in a just a few sessions with us.
An effective treatment plan and outcome is dependent on:
Establishing a trusting report through active listening techniques and compassion
A detailed examination of the area involved
Expert evidence based plan of care designed to speed your recovery.
Treatment that is focused on your impairments and limitations.
Empowering you with self-treatment tools and skills to help manage your recovery independently.